I'm examining the impact Star Trek: The Next Generation had on my formation. The introduction to this series can be seen here.
Hide and Q
Q returns to tempt Riker with powers beyond his imagination.
Haven
Counselor Troi prepares to enter an arranged marriage, while Riker manages his feelings about the wedding. The Enterprise meets survivors of biological warfare that were long thought dead.
As I've mentioned, it took me a long time to warm up to Riker. He reminded me of my older brother then, which makes sense to me now, because so far he's mostly been a douchebag. When interacting with Q, their arrogance is a good match for one another. Riker sometimes seems to admire Q, and he's certainly quick to adjust to the mantle of great power over others that Q gives him. When his friend Deanna is in a very difficult situation, Riker's only thoughts are of himself and he gives her no discernible support.
In what I believe is an attempt at decisiveness of character, Riker himself seems most sure of the facts that he's very good at ordering people around and that he's entitled to something. His moments of kindness feel more like benevolent paternalism than anything else. Q giving him Q-like powers isn't so far removed from the career of hierarchy-climbing he's devoted to. He is in a leadership position over others already, but shows none of the understanding of human nature, empathy or curiosity that Picard does. If I weren't already aware of a future character trajectory that I recall as being rather benign, I think I'd find him a lot more disturbing and ominous at this point. He's the more visible reminder of the unspoken limits on compassion and self-awareness in this rigid Starfleet system of control.
I'm glad I found him offputting then, and take that as a sign that I knew a thing or two at that age.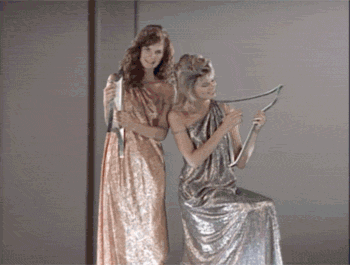 Other news in these episodes:
Picard loves Shakespeare (this would encourage my love for theatre and film). He also responds with compassion when Riker is insistent on making himself look like an idiot.
Q is frightened by humans' drive to learn and improve; humans are characterized as not abiding stagnation, and having change and growth at the heart of who we are. I have no doubt that this philosophy helped me find a way out of a very dark place in my life.
We meet Deanna's mother Lwaxana here, who vividly reminds me of someone else in my life… but we'll save that for another time
In another dazzling display of ethnocentrism, arranged marriages are considered backward and unenlightened (have we had a post without the word 'backward' in it yet?)
---
1.From the enjoyable Not Paying Attention to Star Trek tumblr: http://ignoringtrek.tumblr.com/post/18676495043/s01e11-haven
2. Ibid.