I'm examining the impact Star Trek: The Next Generation had on my formation. The introduction to this series can be seen here.
The Outrageous Okona
The Enterprise helps a charming and roguish smuggler freighter captain with his engine troubles, and gets caught in the middle when two warring planets both want him extradited.
This is a light-hearted, relatively innocuous episode that I nearly skipped writing about. But it is rare, direct look at sexuality and codes of sexual behavior in this universe, and it's the clearest picture we get of the sexual culture of the ship for some time. So let's pause and look at just a couple of points.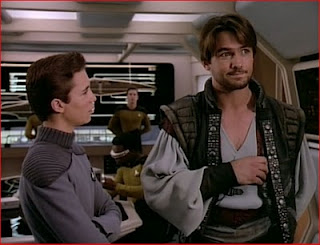 First, one of the people clamoring to get Han Okona handed over to him is a dishonored father with a pregnant, unmarried daughter. When Picard is confused by the man's anger and demands, Deanna describes him as having an "ancient morality" and a "heartfelt, if arcane, sense of righteousness." She names this code as meaningless to the captain and herself, but she assures the captain of the father's seriousness. This exchange defines Starfleet sexual code negatively, by what it is not. And this little taste of another sexuality – beyond women being treated as the property of men in their family – was incredibly alluring to me.
Han Okona is promiscuous and extraverted, and explicitly equates love and sex with one another. After he beds several women on board, Picard makes clear that consensual "socializing" with crew members is well within the man's rights (so, casual consensual sex between adults is not frowned upon, it seems). He is not quite a rake; he is not portrayed as a misogynist, simply as emotionally unavailable. And by the end of the episode, we discover he's not responsible for either crime he's accused of, but only appeared guilty from the covert actions he's taken to help a young, secret romance come to fruition. So Han Okona apparently has a soft heart. He's also portrayed as a bit lonely, as he describes his capacity to "use up a place." He may be a raging trope, and casual sex is still apparently equated with some level of irresponsibility… or at least immaturity. But he's a sympathetic character that is not in the Starfleet hierarchy, and is not confined to existing only in his head, and I appreciate seeing at least that much.
---
1. From http://www.dailydrew.com/2011/03/outrageous-okona.html